Master Clock
This system consists of a master clock and local clocks that are controlled by the master clock. Used particularly as a chronometer on ships, it is designed and manufactured with consideration given to variables such as vibration, temperature, and handing conditions. In addition, the master clock conducts automatic time adjustment utilizing GPS.
"TXS-12 series" has a high accuracy, ±0.2 second/day. WALL TYPE & FLUSH TYPE are available and they drive 150 local clocks (clocks with second hand max.30 among them). Operation staus can be checked at all times by looking at the digital monitor on the front face of the device.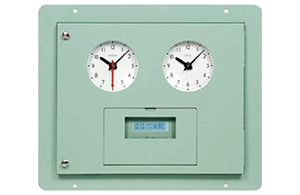 | | |
| --- | --- |
| Model | Description |
| TXS-12S | Wall type |
| TXS-12F | Built-in type |
For details and specifications, please see the following PDF file.

Display PDF in a separate window
Clock_catalog_1904