Features of Marine Digital Telephone Exchange OAE-KH010L Series
OAE-KH010L-Series Marine Digital Telephone Exchange creates a digital communication system that meets all aspects of internal and external communication on board.
Based on the latest voice communication system that features VoIP (Voice over Internet Protocol) and IP telephony its flexible configuration is a cost effective solution for you. If you need to improve your efficiency by integrating voice, Internet and data services, OAE-KH010L-Series is the right choice.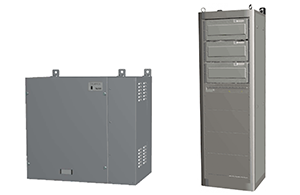 | | |
| --- | --- |
| Model | Description |
| OAE-KH010L-2 | — |
| OAE-KH010L-3 | — |
For details and specifications, please see the following PDF file.

Display PDF in a separate window
oae-kh010l_catalog_1604